As a bit of an experiment and to keep myself writing, I've decided to do what some may consider mini reviews on my weekly comics pull list. Sometimes, this may not be so much of a review as just thoughts that I have after reading the issues. I'll try to keep them as spoiler free as possible. Feel free to comment back.
Batman and Robin #16: Pat Gleason draws one creepy Joker, I'll give him that. This series has been one of the more compelling tie-ins to the "Death of the Family", but I feel Peter Tomasi may have put most of what he had to say into the last issue. Still, as far as an examination of how far Damian has grown as a character, this issue hits all the right notes. If what is under that plate is what I think it is, it will be very interesting to see where the character goes from here.
All New X-Men #6: I read this book for Jean Grey and, therefore, have been very pleased to see her become such a focal point. However, Kitty Pryde's transition into mentor is also proving to be a joy. Normally, I'd prefer the pacing of a story to be a little quicker, but this book is an exception. With one of the most thinly veiled science fiction, time travel plots, this title thrives on the intriguing character interaction. I much as I'm enjoying it now, I am both curious and concerned as to what will happen to it when Uncanny X-Men debuts next month.
Indestructible Hulk #3: I've always liked the Hulk, but I never have really enjoyed reading the Hulk in his own series. It was too depressing and the idea of Banner constantly struggling and failing to find a cure had long ago played itself out. Enter Mark Waid and Lenil Yu's Indestructible Hulk, where that old trope is thrown out the window and you have some of the most fun to be found on the shelf month in and month out. Banner's acceptance and his attempts to rebuild his life, while re-purposing the monster within him as a weapon for SHIELD is equals parts inspired and hilarious. My only gripe is with the art, which just doesn't come off as clean as I feel it should. It just seems far too gritty for a series with such a tone. That may change when Walt Simonson takes over the art chores later this year.
New Avengers #2: If Jonathan Hickman does one thing better than any other, it's science fiction. After a bit of a slow start in the first issue, New Avengers kicks it into high gear with this second installment. The character interaction, much like All New X-Men #6, is what really did it for me in this issue. If anything, I am curious to see how this story line plays out when it appears to me that the Illuminati cast has really learned nothing from its past mistakes. Steve Epting's art is always a favorite as his ability to make a scene of conversing individuals just as dynamic as his renderings of big action blowouts.
Batgirl #16: And to think this was going to be Gail's last issue. I don't think anyone but Gail Simone could appropriately chart the development of Barbara Gordon after this story line  The writer has quite literally baptized the character by fire and had her confront the one villain that has defined her life up to this point. This story line is the turning point of the series from which it should never be the same. Outside of Batman itself, Batgirl is the best, most important tie-series to "Death of the Family."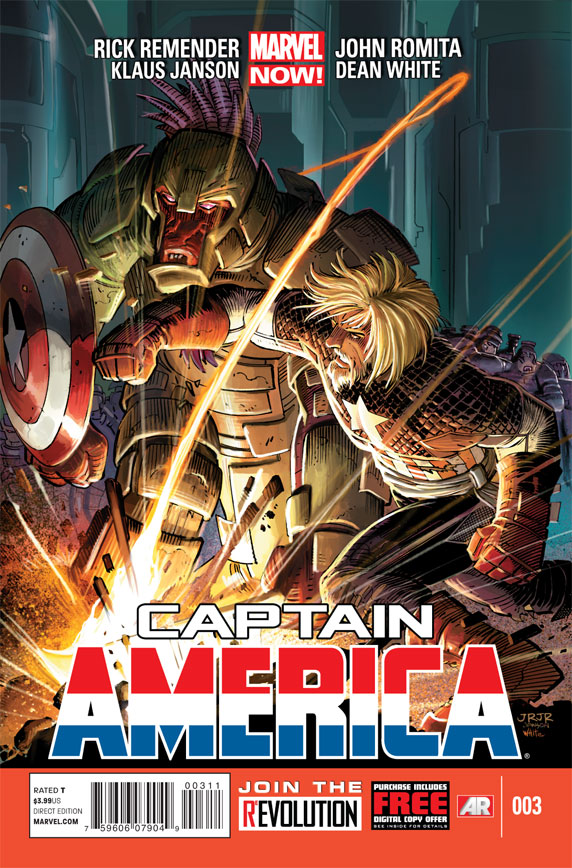 Captain America #3: I really enjoy Rick Remender's work, but I must admit, I'm not entirely sold on Captain America yet. I have a good idea why that is, though. After eight years of Ed Brubaker telling phenomenal stories centered upon espionage, leaping back into the Kirby-esque science fiction elements is a bit jarring at best. However, I will say that for the first time in a very long while, I feel like Arnim Zola is a huge threat. In a few more issues, I'm sure I'll have come to fully embrace the new direction of this series.
Daredevil #22: This. This is what I want regularly from my comics. Month in and month out, Daredevil never disappoints me. It has just the right balance of big super hero action, great humor, and just the right amount of drama and issue 22 demonstrates it all so perfectly. Waid and Samnee are on fire and the coupling of the writing and artwork on this book is absolutely perfect, which is something I can only say for one other title being published at the moment. My only gripe isn't really a gripe at all, but I think it is just a bit sad that the Superior Spider-Man is a bit more interesting here than he was in the first issue of his own series. To be fair, that may change the further we get down the road.
Batman #16: Remember when I said Daredevil was one of two series that had the perfect team of writer and artist? Batman is the other. Scott Snyder and Greg Capullo have crafted the first comic book that continually creeps me out, but I cannot put it down. Snyder writes a Joker that, for the first time in years, feels legitimately terrifying and Capullo continual depiction of his facial decay is undeniably the visual soul mate of such an idea. And, as I said before, if I'm right about what's on that plate… I have never been scared for the life of a fictional character before. Congrats, Scott and Greg. You've accomplished a first for me.
This is a really good week for me.  Batman and Daredevil?  Why can't this happen all the time?